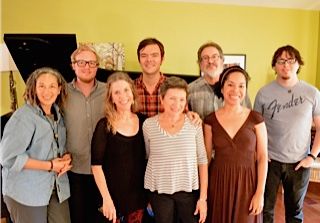 I'm proud to present the finished recording,(renamed from "Where's Mine?" - too cryptic ;), which is available from CD Baby, itunes, and this site. Many wonderful musicians are featured on this CD: Alex Coke flew in from Amsterdam, for the flute chair; Su Terry brought her rubber clarinet to the party, from Pennsylvania, trombonist Alex Heitlinger now makes his home in Utah. Young cellist Ilia de La Rosa, originally from the Dominican Republic was a tremendous addition to the front line. The back line featured bassist Richard Mikel and Wayne Salzmann, both of whom did such a sensitive job of interpreting this music. Suzi Stern added her vocals to a couple of tunes, and her husband George Oldziey was the recording and mixing engineer; such musicianship in that family!
The Cd was completed in time for my 8-week sojourn over the summer: first to Alaska, and then on to New York and DC. On all the gigs and concerts, I presented music from this CD, in various forms -- from Duo to Sextet, and I was so pleased that folks seem to really relate to this music, perhaps because the tunes are -- well, tuneful, and melodic. So I see that it needn't be presented always as an octet, which may be difficult to tour with! That said, I do think that ensembles in colleges and universities with new music programs, or jazz programs, could have some fun with these arrangements, both the thru-composed parts, and as unusual vehicles for improvisation -- outside the box! 
All in all, I am really pleased with this project, and excited to see the reaction to it, and to disseminate it into the community.